The Rocky Mountains
Backpacking in the Collegiate Peaks Wilderness, Colorado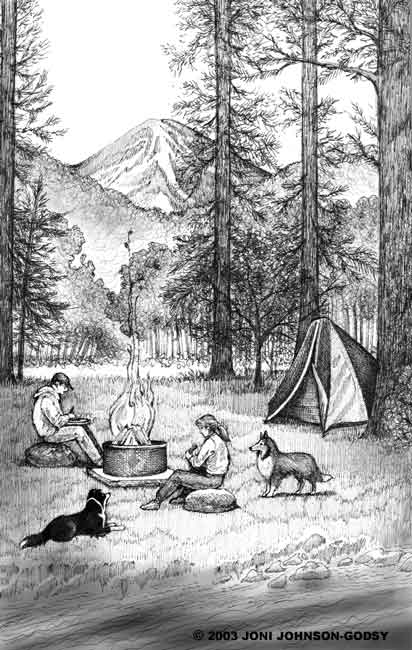 Camping in the Rockies, CO
Kroenke Lake, CO
---
Cottonwood Pass, CO
On our annual trips to Colorado my husband, traveling friends and I usually give ourselves one day to acclimate to the altitude before the exertion of hiking and backpacking begins. We have found great merit in this as I myself have suffered from altitude sickness only once in my life and decided that it was one time too many. It can be difficult to forfeit that first day and we have found horse back riding and white water rafting to be low key ways of adjusting to the altitude.
On our first day out a few years ago, the rest of the group went white water rafting and I decided to set out and explore the mountains on my own, breaking the rule we set for ourselves about acclimation. Leaving the motel without a plan, I found myself driving up Cottonwood Pass. Before I knew it I had hiked to the summit of an unnamed mountain and was alone in the heavens, almost. The only other sign of warm blooded life was a chipmunk, whose curiosity temporarily outweighed his caution. Our encounter was brief, but touching and memorable.
The final straight up assent to the summit at Cottonwood Pass, CO.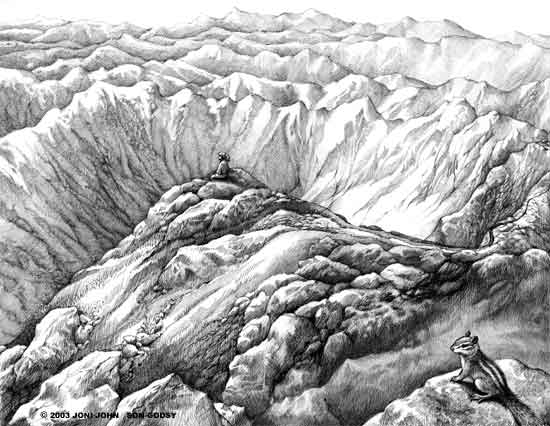 Alone in the Heavens
There is something about mountains that make a person feel insignificant and humble. There is something about mountains that can also make a person feel strong, connected and invincible. This contradiction for me is part of their lure. From a vantage point like this one a person can contemplate the dilemmas of the world, and seemingly solve them.
---
A Gray Day With Gray Jays
Cleared for landing
On the back side of Cottonwood pass where the mountains finally give up their altitude and sink into a large narrow valley there are a myriad of hiking trails one can explore. We chose one in a more remote area, thinking that we were less likely to run into other hikers there. The minute we got out of the car to gather our gear, we were introduced to the idea that this was indeed a popular hiking location. A family of three Gray Jays immediately greeted us with more than a warm welcome. These brave little birds nearly accosted us as we got out of the car. Clearly hikers in the past had taught them that people meant FOOD. They swooped down on us stealing parts of our lunches and finally got so brazen as to sit on our heads, hands and anything else that would accommodate them. We so enjoyed their company but it was a pretty clear illustration of how tame and bold wild animals can become when fed by hikers.
"Where did he go?"
As we hiked along on this trail the family of three Jays followed us along. They were like little pets that couldn't get enough of us. But at a certain point on the trail the little family had come to the end of their territory and stopped following us. We saw other Gray Jays in this new area and they were not tame at all. After many hours on the trail and now heading back to the trail head, the friendly little Gray Jays met us where they had left us, and escorted our group back to the trail's beginning where we had met. What a funny, gregarious family they were.
Alan Godsy holding a Conference
Good friend "Murph" wearing a fancy hat adornment
---
Mt Evans
Mt. Evans Summit
The highest road trip one can take in the continental United States is to the top of magnificent Mt. Evans, in Colorado. This is not a trip for the faint hearted. The narrow little road ambles aimlessly upward snuggly hugging the mountainside the whole way, with sheer drop offs on one side or another that could make an experienced mountaineer uneasy. A driver depends on his nerves going up and his breaks coming down.